Live and Local
Event model
The Live and Local vision
'Live and Local' is a grassroots concept that promotes live music in local communities. It brings together venues, local businesses, musicians and the public for an event in their community that creates opportunities for employment and cultural development.
Since the initial pilot projects took place in 2014, Live and Local continues to develop as a concept. The intention is that each event:
involves a small number of venues and artists
is 

free

 for the public
presents no cost to the businesses involved – for them, it's business as usual
creates a safe environment that doesn't require road closures or any major infrastructure
offers 

local music

 that suits each venue
This Live and Local infographic provides a simple snapshot of the way in which different community stakeholders can contribute to the development of a more vibrant local live music scene.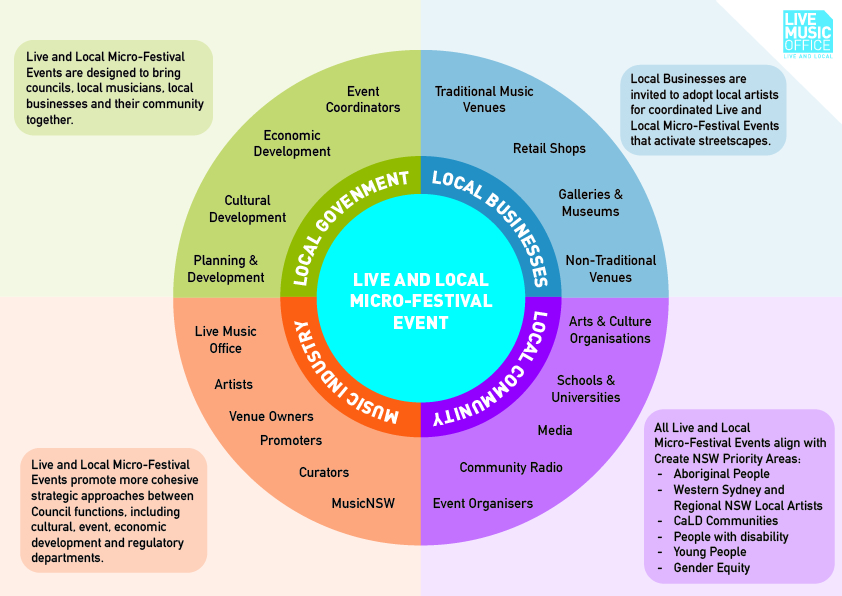 The positive effects of the Live and Local event model are both immediate and continual. This model acts as a catalyst to assist anyone, including local councils, arts organisations, musicians and creative communities in organising and hosting micro-festival events in which local businesses provide local artists with a space to perform. This approach transforms traditional retail shops into non-traditional music venues, allowing the community more opportunities to engage with live music!
Live and Local events can take on a variety of forms, including as a stand-alone event, a series of events or even alongside larger, pre-existing festivals i.e. a 'host' event. The common theme is the celebration of live music at a local level. Established live music venues showcase local artists. Retail outlets, cafes and restaurants are transformed into temporary live music spaces. And local providers of equipment such as lighting and sound are hired. It's a chance for the public to experience what their local live music scene has to offer while businesses can witness first-hand the impact live music has on their revenue. And for musicians, it's a well paid gig that can lead to future opportunities.
In the long term, this model encourages council members, business owners and local artists to work with each other in their community to develop a more integrated policy for the promotion of live music. Councils can work to accommodate the Live and Local strategy into planning, economic, arts and culture and tourism policies, business owners are empowered to organise their own live music programs and local artists are provided with more opportunities to perform. A more holistic policy that promotes a vibrant live music scene has flow-on benefits for a community's local economy, employment, arts and culture, tourism, urban development, youth engagement and mental health, to name a few.