The Australian music industry will get behind live music venues in Kings Cross with an incredible afternoon of free live music for IGNITE: Heat the Street on Sunday 23 November.
Award-winning and chart-topping songwriter, composer, producer and multi-instrumentalist Louis Schoorl will curate 40 acts across 10 venues for four hours between 2pm and 6pm. IGNITE presents a stunning addition to ARIA week 2014.
Venues: The X Studio (Carousel and X 54), Uliveto, Goldfish, Barrio Chino, Crane Bar, Kings Cross Hotel, Kit and Kaboodle, Sugarmill, New Hampton, The Bourbon and The World Bar
Time: 2.00pm-6.00pm
LINE UP:
Gossling
KLP
M-Phazes
The Potbelleez
Reigan Derry
Sun Rai  (Rai Thistlethwayte)
Milan
Microwave Jenny
Odette
Nate Flagrant
Playwrite
Darryl Beaton
Doug Williams
Emma Birdsall
Hannah Robinson
Jeff Duff
Jonathan Zwartz
Leah Flanagan
Martha Marlow
Craig Calhoun
TIAAN
Morgan Evans
Hydraulix
Jonathan Zwartz Quartet
Darryl Beaton Band
Leroy Lee
Steve Barry Trio
Stu Hunter Trio ft Simon Barker
Martinez Akustica
C Major
Sensitive Zombie
Michael Duchesne
Thandiwe Phoenix
Levi 5 Star feat. Amy Chase
La Fiesta Sound System
DJ Ocky & Mark Matthews
GG Magree
Tikki Tembo
Shantan Wantan Ichiban
Dolso
Nes
As part of the City of Sydney's Live Music and Performance Action Plan, in 2014 the City of Sydney matched funding to APRA AMCOS and The Live Music Office to help promote live music and performance in Sydney, with a focus on local artists and local venues.
Presented by key partners The Live Music Office, APRA AMCOS and the City of Sydney, the Kings Cross IGNITE precinct event highlights venues in Kings Cross that provide regular jobs and opportunities for our great Australian musicians. This is the second pilot of the Live and Local event methodology created by The Live Music Office and APRA AMCOS. It will become a template to support live music audience and sector development across metropolitan and regional Australia.
Supporting event sponsors for Kings Cross Ignite are The X Studio, ARIA Week, NSW AHA, Uliveto, and Alberts.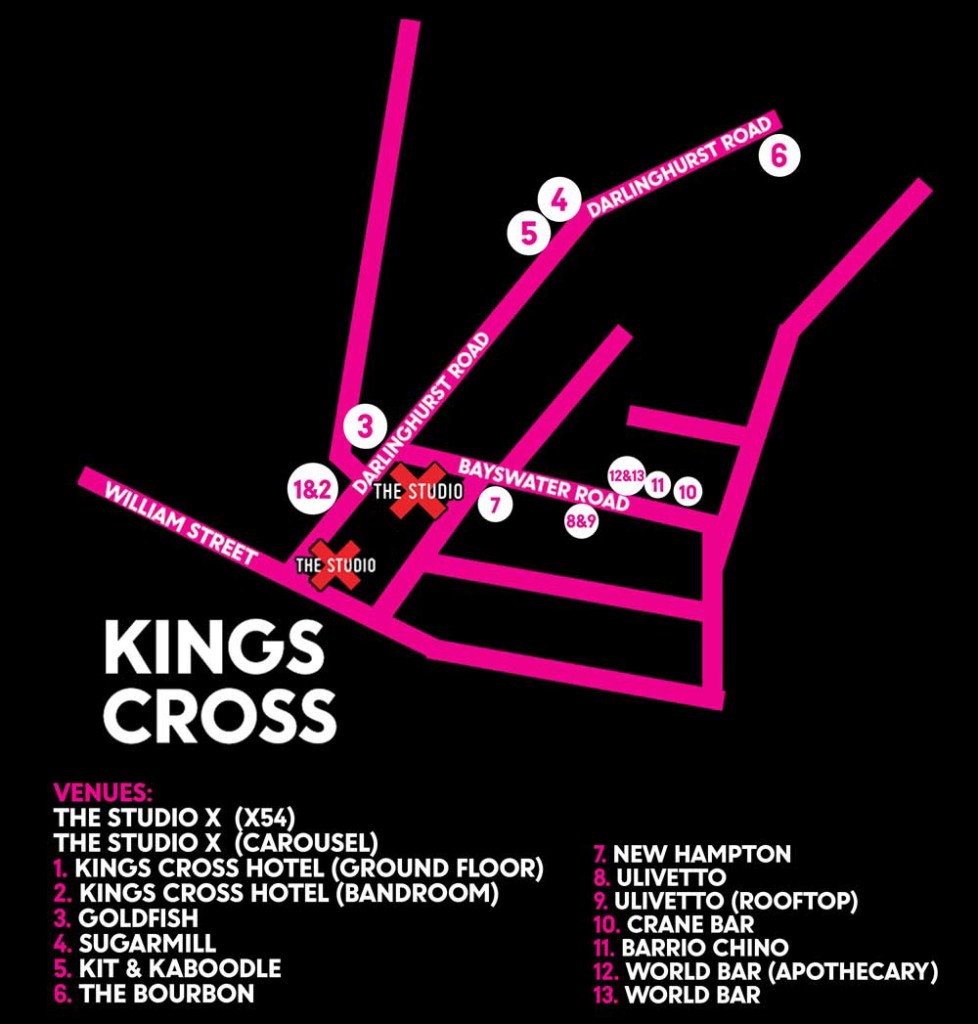 For more information head to livemusicoffice.com.au/kingscrossignite