Live Music Resources
Ticketing Tips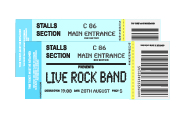 As a venue you will need to consider whether to charge for your shows or make them free entry. Here's some information to think about and resources on both options.
Paid Tickets
Look at a ticketing system that suits your business needs, there are many different options available to you.
The three main approaches to consider in ticket sales are:
physical sales direct from the venue or box-office
online digital ticket sales
door sales at the show
Most venues will use a combination of these types of tickets depending on the type of show and event.
Physical Tickets
Physical tickets bought either at a point of sale or venue box office. You will receive a hard copy ticket for the show highlighting the show information location fees and conditions of entry. Used primarily for theatre shows but some venues do rely on these tickets especially if it is a large venue or stadium show.
Electronic Tickets
More commonly known as e-tickets these are purchased online and emailed out to the customer. A smart and efficient way of handling both ticket sales and entry to the venue at the show.
In today's digital and online world it's no surprise that close to 80% of tickets for live music shows are bought online. An additional benefits of e-ticket systems allows you to collect data or information on who is attending shows the name, contact details, email address etc. This data is very useful and can be used in your marketing and promotion plan for upcoming shows.
Most e-tickets will contain a barcode or QR code allowing quick entry when scanned on arrival giving accurate information on numbers of patrons in the venue along with attendance trends.
There are many companies that offer e-ticketing solutions to venues which can give you the ability to sell and manage your own ticketing. It's important to do some research on which will suit your venue the best. Links to some examples are below:
Ticketmaster, Ticketek, Moshtix, Oztix,
Eventbrite, Event Espresso, Sticky Tickets,
Ticket Booth, Music Glue, Muzeek
Door Sales
Venues normally place a cut off time for ticket sales from physical and digital sellers, usually three or four hours before the show starts. Unless the show is sold out then there will still be people that want to attend and this is managed by selling tickets on the door.
Door sales can be a valuable source of additional income. It is usual to charge a higher price for door sale tickets as there is no booking fee incurred on these sales.
Free Shows
Many venues will program live music as ancillary entertainment to their core business thus giving more benefit to their patrons.
It's a good strategy to monitor attendance relating to free shows. This can include:
Monitor sales for food and bar takings
Venue staff to report patron feedback.
Check Facebook engagement relating to shows
Create a venue #

hashtag

 for social media platforms and monitor online traffic
Take a regular head count of patrons during the show
Even if the show is free entry consider the option of issuing e-tickets, that way you collect the data on attendance. This data can be useful and used in your marketing plan and engagement for upcoming shows, building a solid live music community around your venue.